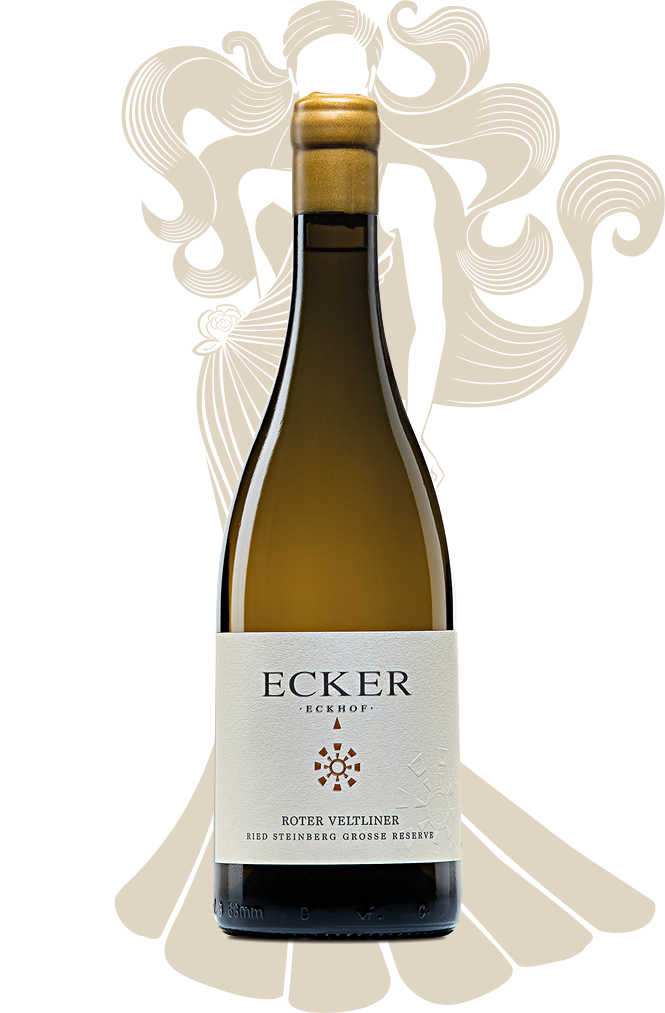 The Best the Wagram has to offer.
A noble and versatile indigenous variety, that wants to be cared for, cherished and looked after.
The pride of the Wagram,
and our darling.
A celebrated, tasteful beauty,
that makes a name for itself.
At Ecker-Eckhof winery, Roter Veltliner plays an extremely important role as a specialty from the Wagram.
This autochthonous grape variety owes its name to the reddish skin of its grapes - "Roter Veltliner" translates to "Red Veltliner".
However, despite its reddish skin, Roter Veltliner it is a true white wine variety, as the grape skin does not contain any anthocyanins
(red pigments) and therefore does not impart any color to the wine even after long maceration.
For many years, Roter Veltliner was the most popular and most widely grown variety in the Wagram,
until Grüner Veltliner prevailed. (Interestingly, the two varieties are not related.)
While its geographical origin has not yet been clearly established,
we do know that Roter Veltliner is related to several other well-known varietals, such as Neuburger and Rotgipfler.
Depending on the vintage, it is lean and fruity or full and lush, from light-footed and easy-drinking wine to
multi-faceted reserve; almost anything is possible with Roter Veltliner.
Fully ripe Roter Veltliner, especially from warm and hot years, shows great storage potential.
Its range of flavors is broad and, in contrast to Grüner Veltliner, which almost always has pear or apple notes, Roter Veltliner shows aromas ranging from pome fruit to exotic notes - nearly everything the fruit basket has to offer.
The natural extract sweetness on the one hand and the higher acid structure on the other also distinguish it significantly
from the main Austrian white wine variety Grüner Veltliner.
This range makes the Roter Veltliner a go-to accompaniment for classic Austrian cuisine,
but it is also ideal for Asian or fusion dishes.
As diverse and flexible as Roter Veltliner is in the glass, it is equally capricious and diva-like as it grows.
Even when it comes to location, it is extremely picky.
The Roter Veltliner loves warm, airy, south-exposed locations, and it feels very much at home at our Steinberg vineyard.
Though it is very tolerant of heat and drought, its high susceptibility to frost and fungus, coupled with a late ripening point,
is a great challenge for us as winemakers.
In addition, the foliage work is enormously complex, as the grape clusters are very compact and a
good leaf to fruit ratio is essential to healthy grapes.
But once she, our diva, has been harvested, fermented, matured, bottled and at a pleasant temperature poured in our glasses,
all the arduous work is forgotten and only one thing comes to mind:
This is what Wagram tastes like.